Lavell Edwards Stadium, Brigham Young University
Until 2005, storage underneath the stadium was home to part of the largest collection of Jurassic fossils in North America.
Rice-Eccles Stadium, University of Utah
While the stadium is not extraordinary in and of itself, the Utes have outdone themselves when it comes to the "tower".
The tower is home to six levels, and each level is provided with an absolutely incredible view of the Wasatch Mountains and Salt Lake City.
Carrier Dome, Syracuse University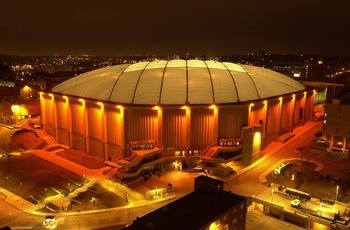 Although the Carrier Dome was named after the air conditioning company, Carrier, in a somewhat ironic twist, the dome is not air conditioned in any way.
Spartan Stadium, Michigan State University
Spartan Stadium is home to one of the most beloved halftime shows. During the halftime show, Zeke the Wonder Dog (an honorary member of the team) comes out and performs for the crowd. 
Bobby Dodd Stadium, Georgia Tech

This stadium is home to the most lopsided football win in college football history. In 1916, Georgia Tech went up against Cumberland College and won the game 222-0.
Falcon Stadium, U.S. Air Force Academy
Falcon Stadium provides the Air Force team with a home-field advantage that few teams can claim—lack of oxygen. Because of it's elevation of 6,620+ feet above sea level, the Air Force football team is adjusted to the lack of oxygen, whereas visiting teams are not.
Yale Bowl, Yale

While not as famous or as big as some of the FBS stadiums, a trip to this one is worth putting on your bucket list.
The Yale Bowl was the original bowl-shaped stadium, and after its erection in the early 1900's became the inspiration for such stadiums as Michigan Stadium and the Rose Bowl.
Michie Stadium, U.S. Military Academy
Most stadiums have their game balls carried into the facility by a ball-boy, usually carrying a bag.
Army, however, brings the gameball into beautiful Michie Stadium with a bang. The ball is generally carried in by a skydiver who lands on the field.
Memorial Stadium, Clemson

The Husker faithful have filled Memorial Stadium for 311 consecutive games, an NCAA record.
Michigan Stadium, University of Michigan, Ann Arbor

Coach "Fritz" Crisler, is credited with inventing the idea of a two-platoon football team, or using different players for offense and defense, while he was the head coach at Michigan.