It's so much more than those four quarters of the game in college football. It's the experience you have watching your favorite teams with your friends and the traditions that going along with college football that is unmatched by any other sport.
With that said, here are some of the best game day college football traditions that we've seen:
10. The Gator Chomp
Made by University of Florida Gators fans, the Gator Chomp is an arm motion intended to get teammates pumped up while replicating an alligator snapping its mouth.
9. Uga
Uga is University of Georgia's bulldog, their four-legged mascot since 1956.
 
8. The Pink Locker Room
The visitor's locker room at Iowa's Kinnick Stadium is painted the team's color pink to get an edge on their opponent.
 
7. White Out
Showing their support for the Penn State Nittany Lions, everyone at the stadium dresses in white on game day.
 
6. The Grove
The grove is a huge tailgating field outside of Ole Miss's Vaught-Hemmingway Stadium where players walk through right before they enter the field.
 
5. The Midnight Yell/The 12th Man
What's The Midnight Yell, you ask? It's a Texas A&M University tradition! The night before each home game, both the team and the crowd yells at Kyle Field to get hyped.

4. Jump Around
After the third quarter of every game at University of Wisconsin's Camp Randall Stadium, all 80,000 people in the stadium shake the stadium by jumping up and down to House of Pain's "Jump Around."
 
3. War Eagle
Although Auburn University's mascot is the Tiger, tradition has it that before each game, a War Eagle flies around Jordan-Hare Stadium to get the crowd pumped up.

2. Army-Navy March 
Before the rivalry game at the end of each season, Cadets from Army and Midshipmen from Navy file into the stadium to take their seats.

1. Dotting the "I"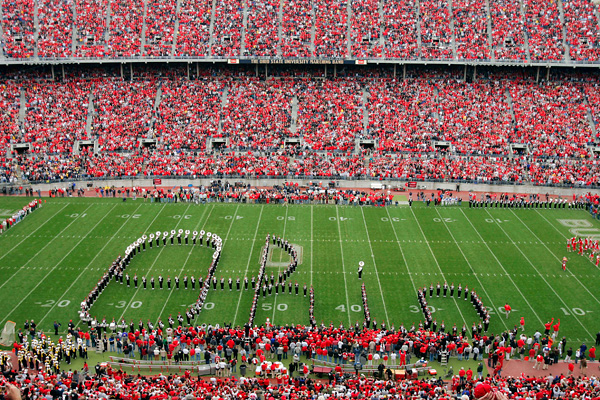 The Ohio State University marching band spells out the word "Ohio" in cursive, but the biggest honor goes to the tuba (technically sousaphone) player who gets to be the one to dot the "i."
Images courtesy of:
http://tebowgatorworld.tumblr.com/
http://aimly.tumblr.com/
http://fuckyeahhawkeyes.tumblr.com/
http://www.offtackleempire.com/ 
http://racheldillard.blogspot.com/2011_08_01_archive.html 
http://yell.tamu.edu/about 
http://espn.go.com/blog/statsinfo/post/_/id/27361/badgers-welcome-huskers-to-big-ten 
http://www.army.mil/article/31068/The_First_Army_Navy_Game/ 
http://sports.espn.go.com/espn/gallery/enlargePhoto?id=3597656&story=3596271 
http://zing.olemiss.edu/ole-miss-outlines-new-grove-electricity-regulations/ 
Don't forget that you can vote once a day, every day, for your favorite coach to be Coach of the Year!

Vote now: http://coachoftheyear.com